Ship faster, with fewer bugs.
Easily create maintainable automated tests with our all-inclusive platform.
Or let us handle QA automation for you. So your team can focus on your app, not on finding bugs.
Trusted by companies like you
Let's talk about it, QA has traditionally been painful for tech companies. Complicated tools, outdated processes, high-maintenance costs.
It's just too much to deal with when you'd rather be working on your app.
Outomated changes that. We offer both an all-inclusive platform and QA automation as a Service (QAAS) by expert testers to deliver fast and accurate tests without getting in your way.
1. QA automation as a service
With our team of QA pros we can quickly increase the test coverage of your web app. Typically, most SaaS apps get >70% coverage in as little as 4 months.
2. Automated web testing platform
The easiest to use low-code platform out there. No more complicated setups and processes. It's all included so you can get your first tests in a matter of minutes, instead of  weeks.
QA as a service. Our process:
Getting to know your app
Things usually get started with a quick demo of your app in action, so we can get familiar with its functionality. We'll also discuss with you the most critical flows (to prioritize them), any testing environments to use, etc. And because tests run in the browser, we don't need any access to your codebase or servers.
With all this, we'll create a testing plan with a timeline estimate for you.
Creating the tests
Following the plan, we'll start coding your end-to-end tests in our low-code platform, which makes the writing process much faster than other tools. Our platform runs on Selenium under the hood, which means that we can export your tests at any time. No lock-ins.
We'll send you a weekly report and keep an open communication channel with you via your preferred app (usually Slack). Tests can also be pushed to your own repo, with our Github integration
Running the tests
Right from the start, we'll work with you to integrate the tests execution into your process. This can be done either on a schedule, or via our powerful API to integrate with your CI/CD tool or with Github actions.
Monitoring
As soon as a bug occurs, you'll receive an automatic email alert with a link to the screen recording, error description and logs. And bugs detected soon are much easier and faster to fix.
Once we have reached a satisfactory test coverage for your web app (usually around 80%), we won't charge you anymore for the test creation service. And you can keep running your tests on our platform.
How is Outomated different?
Automation service
We don't just sell a SaaS platform. We assist your team along the way so your QA implementation project is a success.
We're here for you.

All-Inclusive platform
Other alternatives require complicated setups and infrastructure. With Outomated, there's nothing to download or install. Start running your tests in minutes.
Real-time visual feedback
See a video of your tests as they execute. With snapshots at every step, easily jump back and forth or replay to understand what happened.
Automatic waiting
All commands and assertions automatically wait until the intended task is performed. No more confusing waits and sleeps in your code.
Powerful debugging
Know exactly why your tests are failing. With our developer-friendly stack traces, debugging is fast and easy.
Easy to use
Wanna do a quick change or have an in-house team member edit a test? Our intuitive DSL is simple to learn and understand by most developers. 
An all-inclusive QA platform
Most no-code platforms out there fall short as you scale or need more flexibility.
Traditional frameworks are powerful, but slow to change and painful to maintain.
Outomated combines the best of both options.
Low-code, all the power
plus the simplicity
We abstract all the complexity and "gotchas" of writing code with Selenium, with our low-code API that anyone can read and understand.
And with our browser-integrated code editor you can edit any test in seconds.
The result: tests that are faster to write and easier to maintain.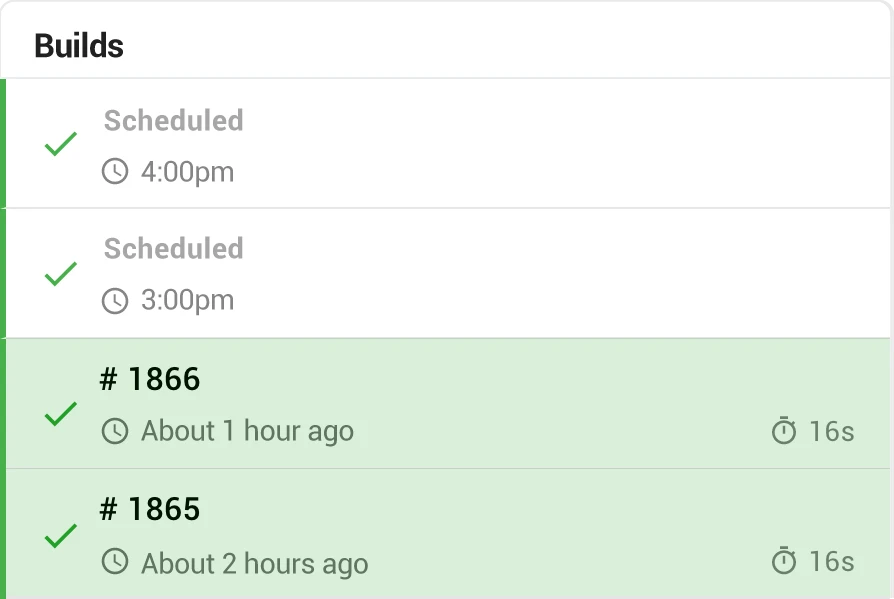 Run scheduled full regression suites with our included scheduler. Outomated also integrates with your CI/CD solution so end-to-end tests are run automatically on every deployment.
Keep your team in the loop and leave behind the stress of releases.
Know when things break, immediately
Be notified of test results in minutes, with exact indications of what caused a regression in your product. And bugs detected soon are much easier and faster to fix.
Frequently Asked Questions
What is Outomated?
Outomated is a service + platform QA automation solution. We create and maintain end-to-end tests for you and help you integrating them into your development process.
Image an on-demand team QA experts helping your team automating your web app. No contracts and no need to have new hires on your end.
Of course, you can opt to just use the platform to write and run your tests.
Is it right for me?
We specialize in technology companies who have a web application and need a hand with QA automation.
If you have any questions about Outomated, please reach out and we'll be happy to answer them.
How much does it cost?
Our platform-only plans start at $0.
If you're interested in our test-writing service too, we offer a flat price of $29 per-test (up to 10 steps) for basic workflows. We also offer monthly plans with a bulk discount.
How long does it take to implement QA automation?
One of the main advantages of Outomated is that we provide an all-inclusive platform. This means, you'll have your first automated tests running on your web app in a matter of days, not months.
We handle all the infrastructure and complexity for you. This means there's no need to download or install anything on your end or to have an internal member of your team dedicated to doing this.
Regarding the total time to implement QA automation, it's obviously based on the size and complexity of your web app. But most clients get a good level of test coverage in two or three months.
How does this integrate with our development process?
Most of our customers want to run their tests whenever new code is deployed, which is normally handle via their CI/CD process.
Another way of doing it would be on a schedule, ie. "execute all the tests everyday at 10am", for example.
Am I locked-in with Outomated?
You own your tests. So if you hire our services, you can always have your team edit your tests in our platform.
And because our system uses Selenium Webdriver under the hood, it's also possible to export your tests at any point, if you desire to opt for an internal implementation, for example.
I already have a QA team
Great news! If they're currently doing only manual testing, we can still help with automation. This would leave more time for them to work on other important aspects of the quality assurance process and less on the repetitive and tedious parts.
Why not having my developers implement QA automation?
That's certainly a possibility. However, most startups find it better to use their developers time to work on product features that add value.
Not only that. An internal implementation comes with additional overhead and hidden costs.
Here's were we can help. Our QA testers are experts that work exclusively on automation and are ready to take your project and have fast results, without adding more work to your team.
I want to learn more
Please reach out below for a free consultation.
We'd love to chat with you to see if Outomated might be a good fit for you and your team.
Ready to eliminate bugs on your web app?
Let's have a quick chat about your web app to find out if Outomated is a good fit for you.
No commitments, just 15 minutes of your time.